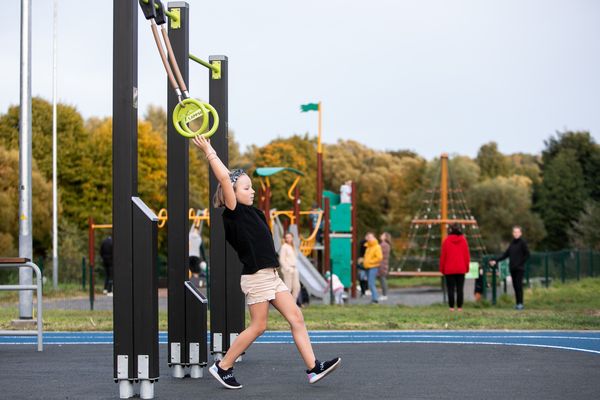 Spend active leisure time in the new exclusive sports space in Kaukysa sports ground, Paplauja.
There are athletics running tracks, artificial basketball courts, two beach volleyball courts and two padel courts, an artificial grass football pitch, outdoor exercise machines, tennis and chess tables.
September 14, 2021 the opening of the Kaukysa sports ground took place, the moments of the event can be found here.
KAUKYSA SPORTS GROUND
WE INVITE YOU TO EXERCISE
RECOMMENDED USE TIME FROM 7:00 TO 22:00*
RECOMMENDED SESSION DURATION — 1.5 hour**
* - please, follow the rules of public order when using sports ground
** - football, basketball, volleyball, padel
ON THE COURSE IS RECOMMENDED
wear suitable footwear
have water
have a towel
protect from the sun
protect personal belongings
comply with safety and hygiene requirements
footwear for running
footwear for artificial grass
footwear for basketball, outdoor gym
footwear for padel court
FOR THE BENEFIT OF EVERYONE
do not litter
do not drink alcohol
do not smoke
do not damage the inventory
do not rollerblade
do not use pyrotechnics or flammable devices
IN THE EVENT OF AN EMERGENCY, CALL THE GENERAL EMERGENCY NUMBER 112
The object is administered by Vilnius City Municipality
Maintenance – info@activevilnius.lt