The area of the multifunctional sports complex is 4.2 thousand sq. m, which is equipped with three integrated basketball courts, 2 volleyball or tennis courts, a gym and administrative premises. The quality, development and accessibility of non-formal education services in Vilnius have been improved.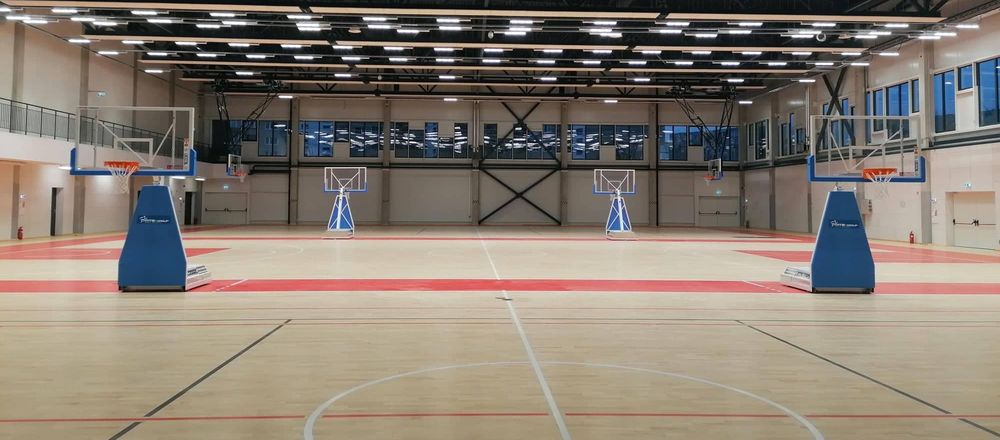 Thanks to the equipped electrically displaceable grandstands, up to 1,500 spectators can watch sports competitions in the building.
The halls will be available to the students of Žemynos progymnasium, and after the lessons, Vilnius Basketball School activities will take place.
Opening hours of Žemynos sports hall

Mon-Fri (working days)
from 8:00 am to 11:00 pm

8:30 am - 3:00 p.m. - pupils of Žemynos progymnasium
3:00 pm - 9:00 pm - pupils of Vilnius Basketball School
9:00 am - 10:30 am - additional rental time (long-term contracts with natural persons and legal entities shall be concluded)
Sat-Sun
From 8:30 am to - 9:30 pm
9:00 am - 7:30 pm - pupils of Vilnius Basketball School
7:30 pm - 9:00 pm - additional rental time (long-term contracts with natural persons and legal entities shall be concluded)
Rental prices
Basketball court one
1 hour rental price - EUR 55 (fifty-five)
Organisation of commercial competitions in the central basketball court with spectators (using side stands)
One-hour price - EUR 350 (three hundred fifty)
Rent of the whole sports complex
One day price - EUR 3000 (three thousand)

For more information or time booking please write at e-mail zemyna@activevilnius.lt
The interior of Žemynos sports hall: